Buying a used car can be a stressful and complicated process, but it doesn't have to be. At Audi Wyoming Valley, we have everything you need to make your pre-owned vehicle shopping experience easy, convenient, and even fun.
As a top used car dealer near Clarks Summit, Dallas, and Mountain Top, PA, we're proud to offer an extensive inventory and all the professional automotive services you need to find your perfect pre-owned car. Our inventory includes all types of vehicles, including used sedans, trucks, and SUVs.
Used Car Dealer Clarks Summit, PA
Used Car Dealer Mountain Top, PA
Used Car Dealer Wilkes-Barre, PA
We also offer certified pre-owned Audi models like the Audi A4 and the Audi Q7. These vehicles come with all the advanced Audi features and performance you love, as well as warranty options and ownership perks for convenience and peace of mind. All certified pre-owned vehicles at Audi Wyoming Valley pass a 300+ point inspection. Plus, each model is no more than six years old and has no more than 100,000 miles on the odometer.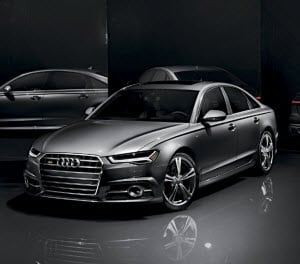 You'll find more than just an impressive inventory at our dealership. Audi Wyoming Valley also features a finance department to help you find the affordable auto loan and lease options you need.
Audi Wyoming Valley also features a professional service department on site. When your car needs maintenance, repairs, or a new OEM Audi part, schedule a service appointment and take your vehicle to our state-of-the-art facility. Our trained technicians will perform all the services needed to uphold your pre-owned vehicle's impressive performance, so it runs smoothly for years to come.
Used Car Services near You
Audi Wyoming Valley has everything you need to find your perfect pre-owned car. Our used car dealership is located at 126 Narrows Road, Route 11 in Larksville, PA. We're proud to serve Clarks Summit, Mountain Top, Dallas, and all surrounding areas with professional used car services to help you get the easy, convenient, and fun shopping experience you need.
See for yourself why Audi Wyoming Valley is one of the top used car dealers near you! Click on our used car service area guide for your town to discover how we can help find your perfect pre-owned vehicle!