Oil changes are a preventative maintenance service integral to maintaining an Audi's sharp acceleration, efficient fuel economy, and sporty performance.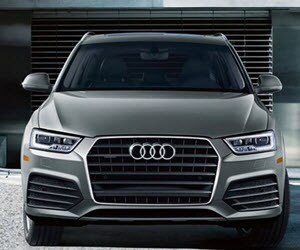 Though changing an Audi's oil is important, Audi Wyoming Valley  receives many questions from drivers around Dallas, Clarks Summit, and Mountain Top about what motor oil does for their vehicles and how often they should schedule oil changes.
The following post seeks to clear up the confusion surrounding oil changes. Below, Audi Wyoming Valley  explains the role motor oil plays in your car, why it needs to be changed, when you should change your Audi's oil, and where you can get an oil change near you.
How Often Do You Need an Oil Change?
What Does Oil Do for My Audi?
From its piston and crank shaft to its tiny nuts and bolts, your engine consists of thousands of moving metal parts that work together to power your car. These parts can wear down if they rub together directly, damaging your engine, reducing its efficiency, and shortening its life span.
Motor oil prevents these parts from breaking down prematurely. By lubricating the moving parts inside your engine, motor oil thwarts the direct metal-on-metal contact that leads to wear and tear.
Oil is an essential component of any Audi, ensuring that it runs at peak condition for as long as possible. Skipping an oil change can damage your engine, but luckily an Audi certified technician can change it in minutes.
Why Should I Change My Audi's Oil?
Whether you drive a sporty convertible or a beefy pickup truck, scheduling regular oil changes is important to maintaining a vehicle's overall health. There are several reasons you should change your oil, including the following:
Oil changes clean your engine.
Clean oil helps to improve gas mileage.
Changing your oil improves your engine's performance.
Regular oil changes reduce wear and friction, increasing engine life.
Clean motor oil reduces vehicle emissions.
Oil changes prevent your engine from overheating.
If you go too long between service appointments, there are several oil change warning signs your car may demonstrate, ranging from an oily smell to loud banging or knocking noises inside your engine.
But don't wait to get your Audi's oil changed until these symptoms appear. Knowing when to get your oil changed prevents wear and tear from building up and keeps your Audi running properly.
When Should I Get an Oil Change? 
The old rule of thumb of changing your car's oil every three months or 3,000 miles doesn't necessarily apply anymore. With improvements in engines and oil formulas, many vehicles can go up to 6,000 miles between oil changes.
You can check your Audi's owner's manual for exact factory-recommended mileage intervals between oil changes. However, your oil change schedule will vary depending on a variety of factors, including:
The model year of your vehicle
The mileage on your odometer
Your personal driving style
Driving conditions your vehicle is exposed to.
For example, your Audi will need oil changes more often if it's frequently exposed to dirt roads, stop-and-go traffic, or uneven city streets. On the other hand, if you only use your Audi to commute or run errands, you may be able to go longer between oil changes. The best way to determine when to get your oil changed is to consult your owner's manual or speak with an Audi technician.
Where Can I Get My Oil Changed Near Me?
At Audi Wyoming Valley, drivers throughout Dallas, Clarks Summit, and Mountain Top turn to us when they need an oil change. The Audi trained and certified technicians at our service center are happy to change your oil, so schedule a service appointment with us online the next time your Audi needs one.