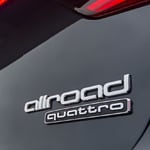 The Audi A4 Allroad Has Iconic Luxury
These Audi vehicles have design features that are completely state of the art and not found on any other vehicle.
Reasonable And Satisfying Power
One of the appealing aspects of the A4 Allroad is that is has a completely functional amount of power on all roadways.
261 horsepower is a sufficient amount of power for accelerating while still providing fuel-efficiency to keep the adventure moving for longer.
Touch The Smartest Of Lines
When you are driving in an A4 Allroad, you have the opportunity to go places you've never gone to before…
Read More