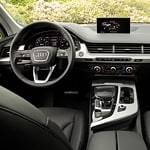 A serious technological revolution is in store for every single driver that gets behind the wheel of a critically acclaimed Audi Q7. A lot of amazing digital magic is delivered to the masses with this righteous midsize luxury SUV. Plains is about to get a major virtual upgrade with the unveiling of this automaker's latest fleet of decadent rides.
For a strong first impression, the captivating 10.1-inch touchscreen that comes with the MMI touch response system really catches the eye. It's paired with a seductive HD 12.3" instrument cluster to unlock extreme capabilities. These tantalizing dual interfaces are highly customizable to enshrine uniquely intuitive experiences for all individuals. The intrinsically modifiable apparatuses usher impeccable utility via responsive reactions to countless voice commands. As you can see, cyber personalization runs rampant in the Q7.
Meanwhile, Audi Wyoming Valley loves Audi's offer of multiple weather packages. During a test-drive, ask to see both the Warm Weather and Cold Weather assemblies.