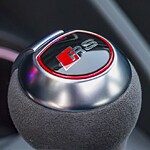 The Audi RS 3 is a miracle on wheels to say the least. This popular sedan falls under the luxury-sport category of the automobile industry. This four-door beast has an excellent exterior thanks to its fine craftmanship. Dynamic LEDs are present as well as razor-sharp detail.
The Audi RS 3 can take your driving from zero to infinity in a matter of seconds. Yes, drivers will actually zip from zero to 60 mph in an estimated 3.9 seconds. The vehicle's top speed can reach an estimated 155 mph. All of this swift action comes from a 2.5-liter turbocharged engine. On-demand power is at your beck and call. Precise steering and agile handling can be expected. Thanks to the RS 3's aerodynamic shape, it will cut through the wind without any hinderance. Drivers will have access to as many as 394 horsepower, and that speaks volumes.
Test drive the Audi RS 3 by speaking with one of our knowledgeable reps.