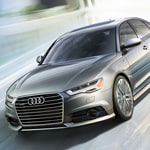 The Audi A6 is marvelous on every conceivable level. This popular sedan has luxurious interior features, Nappa leather upholstery, a high-performance engine and striking good-looks. This luxury sedan takes forced induction to a new level, but there's more.
The Audi A6 has technologies for everyone. There are two touchscreen displays that are touch sensitive. You can access certain apps, engage the radio, answer phone calls and read messages from the screens. The vehicle's front seats possesses heated and ventilated features. Massage function can also be accessed by touching the screen. Ambient-interior lighting is available. The driver can choose from 30 different colors. The interior lighting yields a soft glow that will set the mood. The premium audio system will reproduce concert-like sound. You can even stream your favorite songs via smartphone integration.
Hit us up as soon as possible to take a test drive of the Audi A6 at our dealership.