Sometimes, after putting in a long, hard 9-5, it's nice to let off some steam with good company, great food, and a strong drink. If you're looking for a top-notch happy hour in the Scranton area, we have a few favorites that you should try out.
Electric City Bank Building: The Vault Tap & Kitchen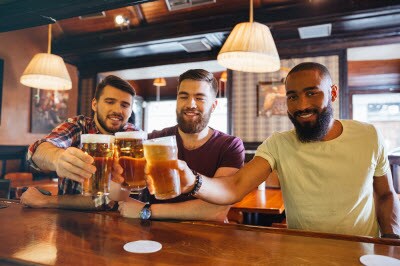 The Vault Tap & Kitchen is a fun and energetic sports bar and restaurant situated in the historic Electric City Bank Building on N. Main Ave.
This 2-floor venue features a 20-seat bar serving rotating specials on their craft and import beers and signature drinks and martinis. If you prefer, you can sit upstairs and enjoy balcony seating overlooking the first floor or sit outside on the deck when the weather's nice.
No matter where you sit, the 12+ flat screen HD TVs mean you'll always have a good view of the game.
If you're feeling peckish, try the Buffalo Chicken Stuffed Pretzels. Still hungry? Order the Big Mac Pizza, topped with ground beef, mac sauce, American and mozzarella cheese, pickles, onions, and tomatoes.
Find them on Facebook to see chef special menus.
Bittenbender Building: Ale Mary's at The Bittenbender
Ale Mary's set up shop in the Historic Bittenbender building in 2014 and is a go-to for a modern and relaxed environment. They offer a rotating selection of nearly 100 craft and import beers, with 20 featured at a time at each of the two bars.
Order a meal at the bar or sit down at a high top or table for a more relaxed dining experience. Their large menu includes bar bites, flatbreads, gourmet hot dogs, sandwiches, wings, and even soup and salad.
We recommend the Craig Mac hot dog, which comes wrapped in bacon and smothered in gouda mac and cheese. If you want a sandwich, do the Truffle Shuffle. This 8-ounce angus patty melt is served with grilled portabella, caramelized onions, gouda cheese, and peppercorn aioli on grilled rye.
Follow them on Facebook to learn about their tap takeovers, during which a featured brewery brings free samples, giveaways, and specialty raffles.
Restored Victorian: Andy Gavin's Eatery & Pub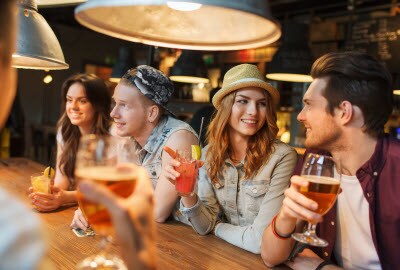 Once voted "Best Corner Bar" by the570.com, Andy Gavin's Eatery & Pub is situated in a restored Victorian home on the corner of N. Washington Ave. and New York St. This casual hangout has been a Scranton area staple since 1960 and has been under its current management for over 30 years.
They offer weekly specials, like Tuesday Wing Night and Thursday Build Your Own Burger Night. Plus, $2 lager drafts on Fridays, and $3 well drinks on Mondays. If you're a beer guy or gal, you'll have your choice of dozens of craft, domestic, and imported drafts, domestic bottles, and microbrews.
We highly recommend their wings, which come in 11 different flavors: garlic, honey mustard, sesame, general Tso's, BBQ, hot Hawaiian, teriyaki, ranch, Chipotle ranch, or barbalo (that's a combination of barbecue sauce and buffalo sauce!).
Visit their Facebook page for updates on weekly specials and new additions to their draft menu.
Take a Load Off
After a day of hard work, you've earned yourself a drink and a mouth-watering meal. Take a load off at any of these happy hour spots tonight. We promise you'll love them.