Your vehicle's battery is responsible for the charge that's required to power your car. Without a battery hooked up, your car would be immovable, so it's crucial to properly maintain your vehicle and its battery to ensure that everything is working.
There are several scenarios that can result in battery issues, so finding expert service you can rely on around the Dallas, Mountain Top, and Clarks Summit areas is imperative to your car's well-being.
How to Jump a Car Battery
Getting Battery Repairs at Audi Wyoming Valley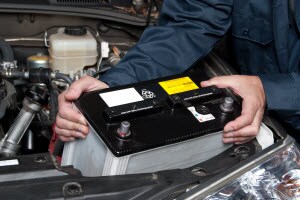 At Audi Wyoming Valley, we take automotive service and battery repair seriously. Our team of skilled technicians in our shop will carefully inspect your battery and perform all the required tests to make sure it's in working order. We can also perform quick and efficient battery repairs and replacements that will get your vehicle out of our service center quickly and down the streets of Dallas in very little time.
How Often Should I Get My Battery Checked?
There are plenty of issues that can occur with your battery since it's so crucial to your car's ability to perform. Batteries can last up to four years before they start losing their power. However, it's always a wise move to get your battery checked twice a year to make sure that everything's in working order and functioning properly.
Are There Signs That Tell Me I Should Get My Battery Repaired?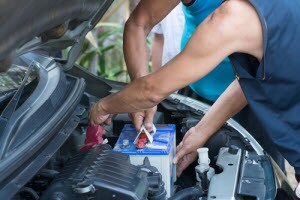 There's plenty of ways to tell if your battery starting to go. The vehicle might have some problems getting started. You may even notice that your headlights aren't as bright as usual. Your vehicle may not even start, depending on the battery condition and even the temperature since extreme heat or frigid weather can greatly affect your battery. Any of these signs can tell you that a battery replacement or repair may be your best move.
Regardless of what's preventing your battery from working, Audi Wyoming Valley is here to help.
What to Look for If Your Battery Needs Replacing
It's always a good idea to periodically check on the state of your vehicle's battery. There's several signs that are warning you your car battery isn't in the best condition and it may be on its way out. You just have to know what to look for.
During the sweltering heat of summer or the biting cold of winter, you may see that the battery's exterior is beginning to bulge. There are other signs that can tell you that you may want to consider having your battery checked, one of which is smell. When a battery is starting to go, it gives off a light putrid smell that may remind you of hard boiled eggs.
That rancid stench may be emanating from your vehicle's battery, and the real culprit is the battery's acid. If you notice this, act quickly and schedule your service. The acid could eventually eat away at important connections, hoses, or expensive vehicle components.
If you've checked your vehicle's battery and came across any of these signs, you should immediately schedule your battery repair or replacement at Audi Wyoming Valley . We're here to help drivers in the Dallas, Mountain Top, and Clarks Summit areas with their automotive service needs.