BORN ON THE TRACK — BUILT FOR THE ROAD.
​Audi Sport has an 80-year legacy fueling motorsport milestones, and we're just getting started. The racetrack has always been our laboratory, and we know the spirit of racing was never meant to be confined to the track. Today, more than ever, there's a seamless connection between our racing pedigree and the range of RS and R8 models.

Audi Sport doesn't just set the bar for track-inspired performance — it raises a whole new checkered flag.

THE AUDI SPORT FAMILY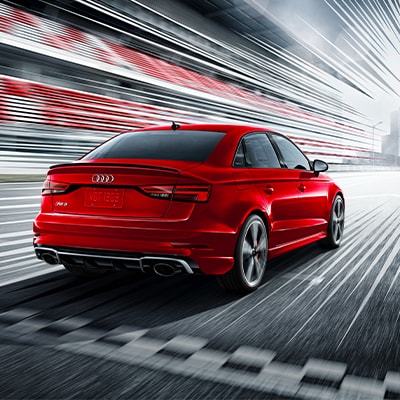 Audi RS 3 Sedan
Your Daily Dose of Sophistication
Equipped with an impressive 2.5-liter TFSI® turbocharged engine, the Audi RS 3 sedan sings to the tune of 394-horsepower and 354 pound-feet of torque.  Poised to enrich your daily drives to and from work, the RS 3 offers an array of unique power chords under the hood, which help it attain such a ferocious level of performance.  A leading force that kicks off the latest class of 2020 Audi Sport® models, the RS 3 redefines luxury with its MMI® Navigation system and fully digital 12.3-inch instrument display. Ideal for everyday driving and open road exploration, the RS 3 sedan is a sure-fire choice for you this season.
Audi RS 5 Sportback
Fine Tuned for Power & Performance
The new Audi RS 5 Sportback is engineered to allow you to hear and feel all 444-horsepower galloping underneath the hood.  Recognized for its unmistakable style and exterior flare, the RS 5 is driven to make your heart race no matter where the roads take you.  Accompanied by waves of flowing shoulder lines and intricate design accents, turn your high-speed adventures into overdrive with an aerodynamic Sportback body that's equipped for accelerating through the wind and beyond.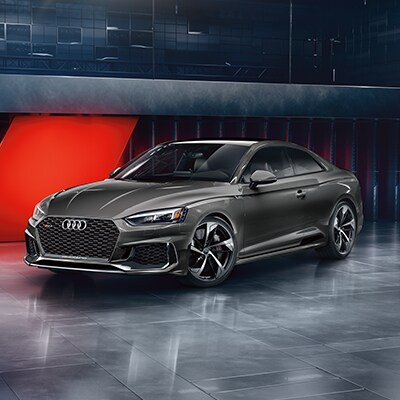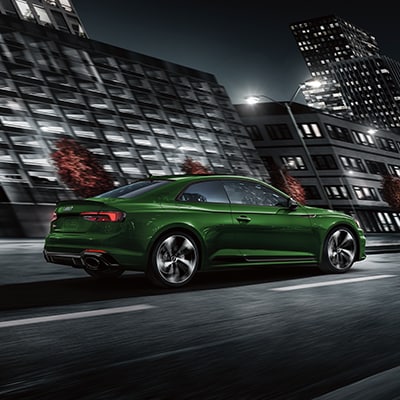 Audi RS 5 Coupe
Find Comfort in Audi's Premier Performance Coupe
Igniting from 0 to 60 miles-per-hour in just 3.7-seconds, the RS 5 Coupe mirrors its Sportback cousin but adds an extra dose of power.  Available with Audi's RS sport exhaust system, the RS 5 Coupe makes easy work of accelerating on the open highways outside of Plains, PA.  Customized for you and your favorite passenger, this luxury coupe exceeds its reputation as an Audi Sport® aficionado and ups the ante when it comes to stylizing performance and prestige.
Audi TT RS Coupe
A Legendary Original Revamped for 2020
Legend has it that the new 2020 Audi TT RS Coupe takes inspiration from its record-setting sibling, the Audi Quattro rally car.  Integrated with a DOHC four-valve design engine with a turbocharged forced induction system, the TT RS coupe is unlike any two-seat sports car in its class.  Peaking at around 394-horsepower and 354 pound-feet of torque, the TT RS Coupe comes standard equipped with quattro® all-wheel-drive making for smooth sailing across varying levels of terrain.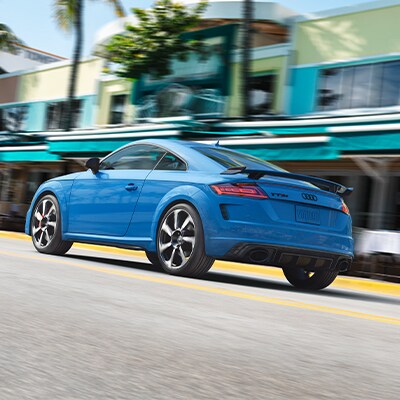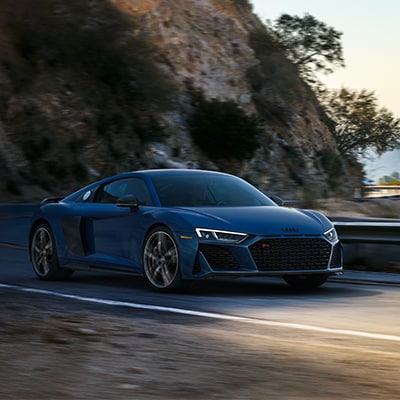 Audi R8 Coupe
Paying Tribute to the Invigorating V10 Engine
For an Audi Sport® model that causes heads to turn left and right, the 2020 Audi R8 is an iconic luxury sports car that's a pleasure to own.  Born and bred for commandeering the racetrack, the R8 gets its unmistakable power from an impressive V10 performance engine.  Boasting upwards of 562-horsepower and 406 pound-feet of torque, the 2020 R8 Coupe pays homage to its legendary history of Audi Sport® excellence.  Available in a limited Mythos black exterior color, the R8 Coupe breathes performance with a matte bronze intake manifold, a rear diffuser, gloss carbon fiber inlays, and interior rhombus stitching in a copper tone.
Audi R8 Spyder
Drop the Top and Feel the Breeze
The 2020 Audi R8 Spyder tops off the new Audi Sport® lineup in incredible fashion.  Tailor-made to suit your high-speed endeavors both on the closed course and through dense city traffic, the R8 Spyder keeps the same V10 engine but loses the hood above your head.  Aerodynamically engineered with an acoustic folding roof, choose to let in the breeze with just the push of a button.  Equipped with magnetic ride control and vibrant LED headlights with Audi laser light, the new R8 Spyder is built ready for smooth sailing and is safe to drive at night when visibility is low.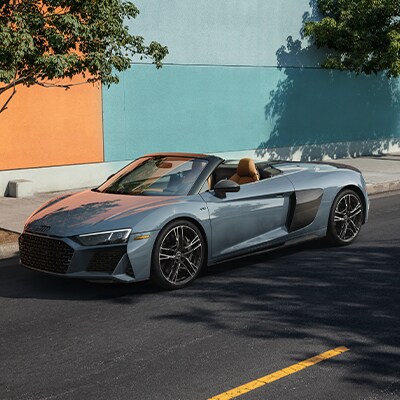 *Always obey all local speed and traffic laws.
Request More Info