If you own an Audi S5, you are probably most concerned with keeping your car running smooth and strong. Proper maintenance and paying attention to even the most minor system malfunctions can keep your car performing like new. With the road conditions that come with the cold Clarks Summit, Mountain Top, and Dallas, PA, winters, keeping your Audi well maintained is important. Follow this Audi S5 dashboard light guide to learn more about the different symbols you might see illuminated on the dash of your vehicle.
Red Lights
Often, red lights indicate that a system of your car is not operating properly. When you see one of the following lights, have your Audi serviced as soon as possible.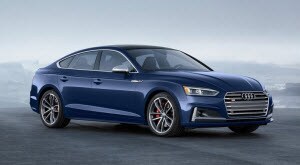 The following red lights are common indicators that you might see in any car:
Battery: A symbol shaped like a battery indicates that something is wrong with your car's electrical system.
Brake: There could be a malfunction with your braking system when you see "BRAKE" or your car could need brake fluid.
Coolant Level: This thermometer-shaped light means that your vehicle is in danger of overheating.
Hood: A car symbol with the hood popped designates that your Audi's hood is unlatched or not properly closed.
Oil Pressure: If you see an image of an oil can, the oil pressure in your S5 could be too low. Oil changes can rectify this issue.
Park: Simply, the word "PARK" in red means that your parking brake is currently on.
Seat Belt: When you see the image of a passenger on your dash, someone doesn't have their seat belt on. Buckle up!
Steering Wheel: A steering wheel symbol indicates that there is a malfunction with your steering system.
Transmission: This gear shaped symbol means that your transmission needs attention.

Unique to the Audi S5, you might also see the following:
Driver Assist features: Some trims of the S5 come with driver assist features like Lane Keep Assist, Blind Spot Monitoring, and more. If there is a pedestrian in your path, or a car in your blind spot, you could see an indicator on the dash of your Audi in red.
AdBlue: When you see a light that says "AdBlue," this means your S5 either needs an AdBlue refill or there is a malfunction with the system.
Yellow Lights
Some of the more common yellow lights you might find on the dash of your Audi S5 simply let you know which systems of your car are currently operating. They can also indicate that maintenance is necessary:
ESC: The Electronic Stability Control system of your S5 is currently activated if it is yellow and blinking. If the light stays on, the system is off.
Air Pressure: An exclamation point in parenthesis might mean that the air pressure in one or more of your tires is too low. "TPMS" indicates that there is just something wrong with the tire pressure monitoring system itself.
Engine Preheat: When a yellow coil is illuminated, your Audi's engine is preheating to protect itself against the damage that a cold engine can cause.
For lights that are unique to Audi, you might find:
Yellow Driver Assist Feature Lights: If your driver assist feature lights are on and yellow, that simply means that the system is not currently operating. When you see these lights in green, it means they are operating and you may receive warning messages related to such.
More on the Audi S5 Dashboard Light Guide
For those living in the Clarks Summit, Dallas, and Mountain Top, PA, area, you can have your Audi serviced by certified professionals without traveling far. Visit or call the Audi Wyoming Valley service center for more information on proper S5 maintenance. Schedule your service appointment online.