Luxury SUVs like the 2018 Audi Q5 and Volvo XC60 have it all: an impeccable performance, advanced technologies, and a beautiful and sophisticated look. Of course, when vehicles are as impressive as these two, deciding which is right for you isn't an easy task.
If you're in Dallas, Mountain Top, or Clarks Summit, however, you don't need to worry. Audi Wyoming Valley is here with a 2018 Audi Q5 vs. Volvo XC60 comparison to help you make the right decision.
Audi Q5 vs. Volvo XC60: Specs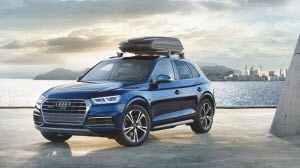 Luxurious SUVs are known for their exceptional performance, and the 2018 Audi Q5 and Volvo XC60 are no different. These models produce tons of power, and a seamless ride that'll make driving through rough streets feel like nothing.
But when we compare standard performance, the 2018 Audi Q5 overpowers the Volvo XC60. The 2.0L TFSI® engine in the Audi Q5 generates 252 horsepower, while Volvo XC60 only gets 250 horsepower. Both vehicles do come with standard all-wheel drive, but the quattro® all-wheel drive system in the Audi Q5 is known to deliver a more capable drive, especially in less-than-perfect terrain.
Plus, the Audi Q5 offers a lightweight suspension designed to create an agile and comfortable performance. The Volvo XC60, unfortunately, doesn't come with an advanced suspension so riding through bumpy streets won't be as smooth.
Features & Technologies
As two of the most luxurious models on the market, the 2018 Audi Q5 and Volvo XC60 are equipped with tons of technologies for comfort, convenience, and safety. From heated seats to a premium sound system, you can find it all in these two SUVs.
The 2018 Audi Q5 also includes a few technologies that really sets it apart from the competition. For example, its exclusive 12.3-inch Audi virtual cockpit instrument cluster shows you just about any type of information you need when you're behind the wheel. The standard Audi smartphone integration with Apple CarPlay™ and Android Auto allows you to connect your smartphone right into the car so you can listen to your favorite tunes or use your favorite apps while you're traveling.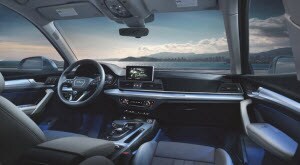 Best of all, the Audi Q5 features MMI® all-in-touch. This available feature uses handwriting recognition technology so you can conveniently write navigation and search entries instead of having to select letters and numbers on the touchscreen.
The Volvo XC60 features a fairly impressive list of interior systems and technologies. However, it doesn't include anything like the exclusive infotainment tech in the Audi Q5.
Audi Q5 vs. Volvo XC60: Interior Dimensions
Interior style for both models is just as elegant, sophisticated, and luxurious as you would expect from these two SUVs. They each come with striking design features-both inside and out-that'll be sure to turn heads everywhere you go.
The only main design difference between these two models are interior dimensions. Compared to the Volvo XC60, the 2018 Audi S5 offers a larger interior and a bit more legroom. This makes it an ideal option for families and carpool groups.
Schedule Your Test Drive Today!
The 2018 Audi Q5 and the Volvo XC60 are dependable luxury SUVs for anyone in Dallas, Mountain Top, and Clarks Summit. When it comes to power, interior space, and technologies, the Audi Q5 is the better choice.
Don't just take our word for it. Experience it for yourself and schedule a test drive at Audi Wyoming Valley now!