The 2018 Audi Q5 and the Mercedes-Benz GLC SUV are what every luxury SUV should be: sophisticated, well-equipped, sporty, and powerful. Plus, their unique looks can turn heads all over Dallas, Mountain Top, and Clarks Summit. But which SUV is better for you?
To help you choose between these two incredible models, take a closer look at both in this 2018 Audi Q5 vs. Mercedes-Benz GLC comparison, provided by Audi Wyoming Valley.
Sophisticated Interior Style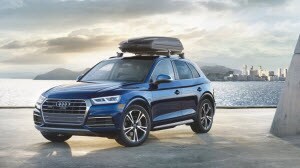 If you think the exterior of the Audi Q5 and the Mercedes-Benz GLC is stylish, wait until you step inside. The interiors of both these models are specially designed to exude luxury, sophistication, and elegance for a true high-end driving experience. They also come with premium materials and loads of comfort amenities that'll make your ride feel even better.
These SUVs seat up to five passengers, but the Audi Q5 does offer more interior space compared to the Mercedes-Benz GLC. This is especially true when we take a look at each model's cargo capacity. The Audi Q5 offers 26.8 cubic feet of room behind the second row of seats and 60.4 cubic feet behind the first row. The Mercedes-Benz GLC only has 19.4 and 56.5 cubic feet of cargo space behind the first and second rows.
Premium Technologies & Features
In addition to a beautiful, well-designed interior, these SUVs are also equipped with some of the most advanced technologies in the industry. Just take a look at their infotainment systems. They provide access to tons of entertainment features, as well as navigation. However, the one in the Audi Q5 also comes with standard smartphone integration so you can enjoy select mobile apps right from the touchscreen display.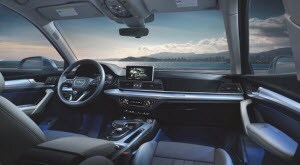 On top of that, the Audi Q5 includes a selection of driver-assist technologies for safety and peace of mind. This includes Audi pre-sense®, a system that prepares the vehicle for impact during a collision. Vehicle Exit Assist is available, as well. This uses LED lights in the side mirrors to let you know when a car or cyclist is approaching from behind when the doors are opened.
The Mercedes-Benz GLC is well-equipped, too. Unfortunately, it doesn't come with any of the exclusive safety or smartphone integration features offered in the Audi Q5.
Audi Q5 vs Mercedes-Benz GLC: Specs
If you're in the market for a sporty yet efficient SUV, the 2018 Audi Q5 and Mercedes-Benz GLC are your best bet. Both come with an advanced powertrain that delivers exceptional fuel economy and a responsive and smooth ride.
In terms of power, the Audi Q5 does offer more. Its standard 2.0L TFSI® engine pumps out 252 horsepower and goes from 0 to 60 MPH in just 5.9 seconds. The Mercedes-Benz GLC's base engine only produces 241 horsepower, and it takes 6.3 seconds for it to reach 60 MPH.
Which Luxury SUV Is Better?
On paper, it's clear that the 2018 Audi Q5 offers more power, innovation, and comfort than the Mercedes-Benz GLC. But, to make sure you make the most informed decision, you'll want to experience both models for yourself.
So, if you're one of the many drivers in Dallas, Mountain Top, and Clarks Summit interested in learning more about the Audi Q5, schedule your test drive at Audi Wyoming Valley, or give us a call now!