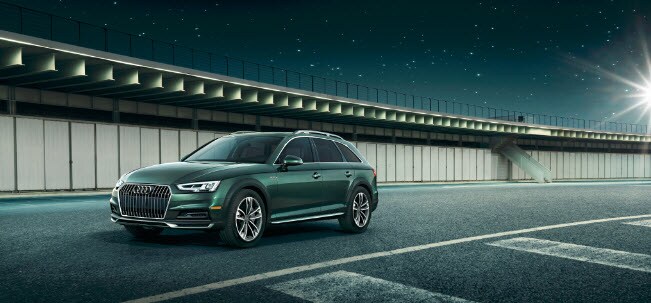 If you're the proud owner of a new Audi A4, you already know just how thrilling it can be to get behind the wheel of this incredible luxury sedan. With state-of-the-art technology, a spacious interior and reliable performance, the A4 is one of the best vehicles on the market. However, that doesn't mean something can't go wrong.
When something does go wrong, you'll probably see one of the numerous dashboard lights turn on. Having a mechanical issue is bad enough, but if you don't know what the light means, you won't know what actions you need to take in response. With the help of our Audi A4 dashboard light guide, you can become an expert on your A4's lights.
Warning Lights
All of the following lights here are warning lights, meaning they indicate that something has gone wrong. Keep an eye out for these and make sure you take note of how severe it is, so you know how to appropriately respond.
Check Engine: The check engine light is the one many of us fear the most. Appearing as an engine block, it indicates a serious problem with your engine that needs to get addressed immediately. While it doesn't always indicate engine failure, it could, so don't take any chances.
Anti-lock Brakes: The anti-lock brakes warning light depicts the letters ABS inside a circle and means there's an issue with your anti-lock brake system. This will severely reduce your performance and safety, so get this fixed.
Brakes: If this light is on, it can mean you don't have any brakes at all. It looks like an exclamation point inside a circle and means you need to pull over as soon as possible. Be sure to check your parking brake though, as leaving that on also activates this light.
Cooling System: When your engine gets too hot, you'll see a light that looks like a little thermometer slightly submerged in a liquid. Pull over safely and let your engine cool down. If it's a persistent problem, head to your nearest service center.
Indicator Lights
While you may panic seeing dashboard lights, not all of them indicate a problem. In fact, some of the most exciting features in your A4 are represented by dashboard lights. Don't panic when you see any of the following light up on your dash.
Sidelights: When you activate your sidelights, you should see a dashboard symbol depicting two headlights facing opposite directions.
Cruise Control: The cruise control light looks like a typical speedometer except that there's an arrow pointing towards the needle.
Lane Assist: Lane assist is a great feature that helps you maintain your lane, and that's exactly what the light looks like, a basic lane in a road.
Visit the Service Center at Audi Wyoming Valley 
If any of your Audi A4 dashboard lights warrant a trip to the service center, look no further than Audi Wyoming Valley. We provide quality service you can count on in the Dallas, Clarks Summit and Mountain Top areas.
We've outfitted our service center with the latest tech and staffed it with highly trained, certified professionals who can guarantee a quick and quality service. If you need to schedule a service appointment or have questions after reading our Audi A4 dashboard light guide, please contact us today!