2018 stands to be a year of modernization for a lot of car manufacturers with even mid-cycle vehicles seeing upgrades in terms of technology, performance, mileage, and the like. Audi is no exception. Their new Q5 midsize crossover is entering an increasingly crowded field, and it's going to have to do a lot to keep up.
However, drivers in Dallas, Clarks Summit, and Mountain Top, Pennsylvania, are going to absolutely love the new Q5. Not only will it keep up with the competition, but it'll exceed it and lead the pack. Read our review of the new 2018 Audi Q5 and contact Wyoming Valley Audi with your questions.
2018 Audi Q5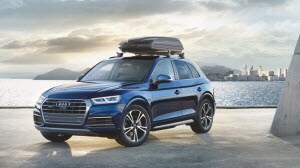 The 2018 Audi Q5 is chock full of technology and stands to deliver an outstanding, comfortable, and refined ride with an exceptional powertrain and luxurious interior, all powered by standard AWD.
The Q5 is a five-seat crossover and has a complete redesign this year. Its base engine is a 2.0L turbocharged, inline, four-engine, which is upgradable to a performance-oriented SQ5 V6 engine that delivers 354 horsepower. The 2018 Q5 is offered in three trim levels-the Premium, Plus and Platinum-and each level allows for customized options.
Q5 Design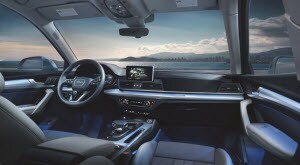 The 2018 Audi Q5 still looks like a sleek crossover that leans more towards the car end of the spectrum than the truck. Indeed, in some respects, the Q5 looks closer to a sedan than an SUV. Optional LED headlights project forward and flank the new shield-shaped grille. The rear tailgate is also flanked by LED lights.
However, under the surface is where the real changes are. It's built on a new, lighter MLB2 platform, which offers a revised and upgraded suspension that delivers sleek and athletic handling. Plus, it's reported to drive from 0 to 60 MPH in under six seconds.
Cabin and Technology
Inside the vehicle, you'll find superior materials, excellent ergonomics, and innovative technology, including an upgraded MMI infotainment center, an optional digital virtual cockpit, and adaptive cruise control. There are truly a range of features both standard and optional to please even the most demanding technophile or connoisseur of fine driving experience.
Test Drive the 2018 Audi Q5 today
The 2018 Audi Q5 is now available at Wyoming Valley Audi. If you'd like more information or to experience the sleek new Q5 for yourself, give us a call or contact us online and schedule a test drive today!